On December 16, 2011, it was announced that he would enter the 2012 NFL Draft. Perry was viewed too be a bit small to be a defensive end with a height of 6'3 and 250 pounds and was predicted to be moved to an outside linebacker in a 3-4 defense. He was stated to be an explosive player who can fire off the ball and get upfield in a hurry.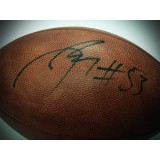 Packers Linebacker Nick Perry autographed this official NFL football from Wilson! Come..
$189.00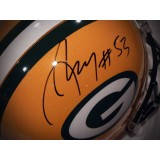 Full Size Authentic Green Bay Packers Helmet Autographed by linebacker Nick Perry and including a ..
$289.00
Showing 1 to 2 of 2 (1 Pages)