Clay Matthews (#52)
CAREER: Athletic outside linebacker has quickly emerged as one of the premier players at his position in the NFL…Became the first Packer since RB John Brockington (1971-72) to earn Pro Bowl recognition in each of his first two seasons in the NFL…Named first team All-Pro by The Associated Press in 2010, the first Green Bay linebacker to earn that honor since Tim Harris in 1989…Finished second to Pittsburgh S Troy Polamalu in the AP's Defensive Player of the Year voting…Was named NFL Defensive MVP by Pro Football Weekly, and also earned NFL Defensive Player of the Year recognition from Sporting News and NFC Defensive Player of the Year honors the Committee of 101…Finished fourth in the NFL with 13½ sacks in 2010, adding a career-high 83 tackles (55 solo)
Player Information
Became the first Packer since RB John Brockington (1971-72) to earn Pro Bowl recognition in each of his first two seasons in the NFL.
Named first-team All-Pro by The Associated Press in 2010, the first Green Bay LB to earn that honor since Tim Harris in 1989. Finished second to Pittsburgh safety Troy Polamalu in the AP's Defensive Player of the Year voting.
Is the only Packer (since 1982) to record a double-digit sack total in each of his first two seasons in the league.
Selected to the Pro Football Weekly/PFWA All-Rookie team in 2009 when he posted a franchise rookie-record 10 sacks.
Came to Southern California as a walk-on linebacker in 2004 and finished his career by earning second-team All-Pac-10 honors as a senior in 2008.
Father, Clay Jr., played linebacker for 19 seasons in the NFL with the Cleveland Browns (1978-93) and Atlanta Falcons (1994-96), and his grandfather, Clay Sr., played defensive end for four seasons with the San Francisco 49ers (1950, '53-55).
When Clay took the field for the first time with the Packers in the '09 opener, the Matthews family became only the second one with three generations of NFL players, joining the Pynes (George Pyne Jr., George Pyne III and Jim Pyne).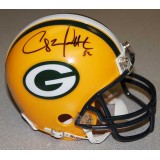 Currently sold out... more on the way! Send us an e-mail if you're interested in this item and we..
$179.00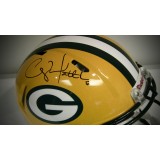 Currently out of stock, more in soon! Please contact us if you'd like to get on the waitlist for ..
$429.00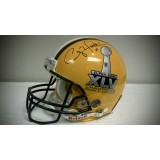 Packers veteran line backer Clay Matthews (#52) autographed this Authentic Packers Super Bowl XLV ..
$539.00
Showing 1 to 3 of 3 (1 Pages)